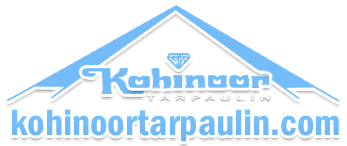 Category






About Us
Kohinoor Tarpaulin is one of the leading name and pioneers in the field of tarpaulins and tents in Eastern India.With our long standing experties & experience we are able to provide the best of tarpaulins, tents Shade Nets, jute, hessian, packing materials and allied products. Our success has been shaped by unique blend of experience, expertise and entrepreneurship, combining innovation and creativity in all its activities. The quality and tradition of the company products generate confidence and reputation for high standard around the country. We ensure the optimum quality products to our customers by procuring and sourcing best quality of raw materials.

Kohinoor Tarpaulin is dedicated to providing high quality tarpaulins used for protecting exposed objects or areas for both commercial and residential situations. Above and beyond being strong, flexible, water resistant and waterproof, our tarpaulins are crafted from the highest quality materials as well as the finest grade possible, plus all poly tarpaulins are provided with a UV inhibitor, prolonging the life even during extensive exposure to the sun.

We have high grade conventional cotton canvas tarpaulin available in brownish golden color/olive green and off-white color ,Jute canvas air/wind proof tarpaulins, packing hessian, and hdpe packing materials. Our product line finds applications in manufacturing, agriculture and construction industry. We would be forthcoming with our expertise for your any temporary weather protection requirement. Last but not least we always endeavor to develop and maintain a long lasting relationship with you.
We understands how important it is to have a product of superior quality, and therefore the covering products
we distribute will hold up under any type of condition making us a reliable firm which attracts repeat business from our clients